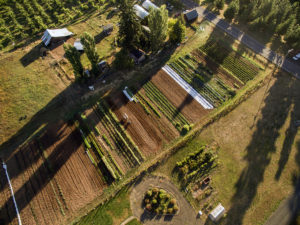 We farm on 10 acres under the northern foothills of Mt. Hood. Our goal is to make a living from our land while increasing the health and life of our land and our community. We believe that a healthy community starts with healthy food, and that healthy food starts with healthy soil.
Using our team of Norwegian Fjord draft horses, we cultivate our market garden and manage our forest land. We sell our produce and flowers through our CSA, the Hood River Farmer's Market, and several local restaurants.
Please come find us at market, or shoot us an email if you're interested in becoming part of our CSA.
-Ben and Anastasia